Hey guys
Thanks again so much for coming to my 99 Max Party !!! I had so much fun, and realized how big of a frikkin nerd I am. Yesterday was a very happy day for me lool. It was a friends list only event (most of which consisted of FC members). I celebrated getting all skills to 99 after a very long 12+ years of playing this game ;]
I never thought I would
EVER
get to where I am today...I've always been very lazy in the game, have taken many years off with playing private servers from 2009-2010 and then IRL things from 2011-2014. I've always been off and on, and after losing nearly my entire bank back in September, I thought I was done with this game completely...pretty insane when I think back on how this game is such a big part of me life. I know it sounds nerdy, but most of us grew up on this game and it's apart of our childhood.
Here's the screenshot of all the items I dropped. It ended up being a 400m DP and about 100m in twitch rolls !! Biggest items were main-hand and off-hand drygore longs that went to  "blade man 48". Congrats on everyone who won stuff!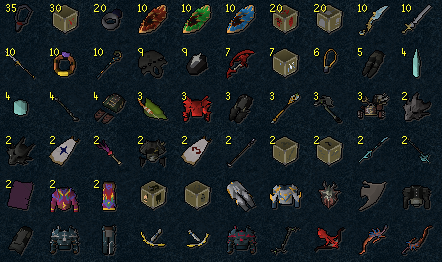 Here's the video I recorded of the whole thing. Not the best quality but it'll do :]
Again ty all of those who came!! I had so much fun and it was great to spend this memorable moment w all of u !
2:40 Getting my last 2 skills with xp lamps
7:09 What was that ???
11:11 Fally Proom DP starts
30:00 Twitch Rolls Start
Last edited by Tamber on Sat Apr 16, 2016 11:06 pm; edited 1 time in total